Vitamin C als Ascorbat - 500g Pulver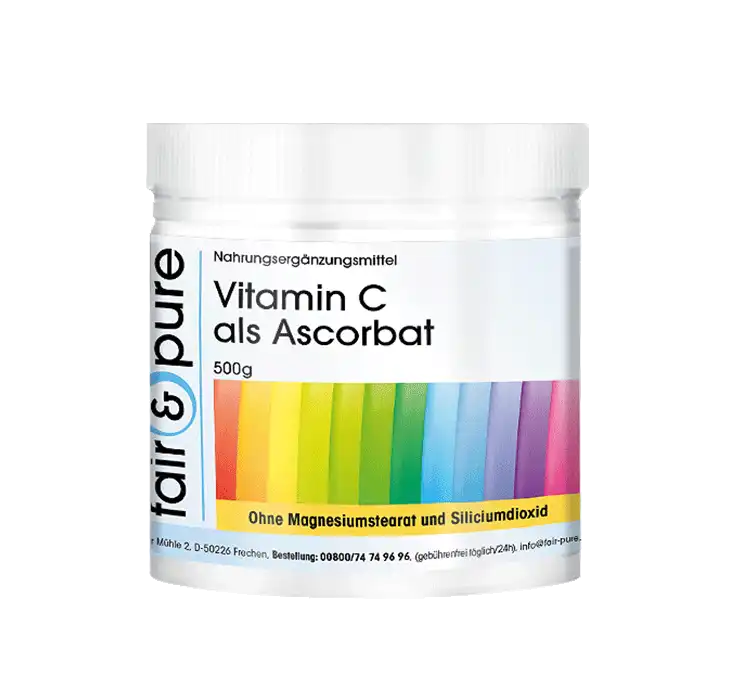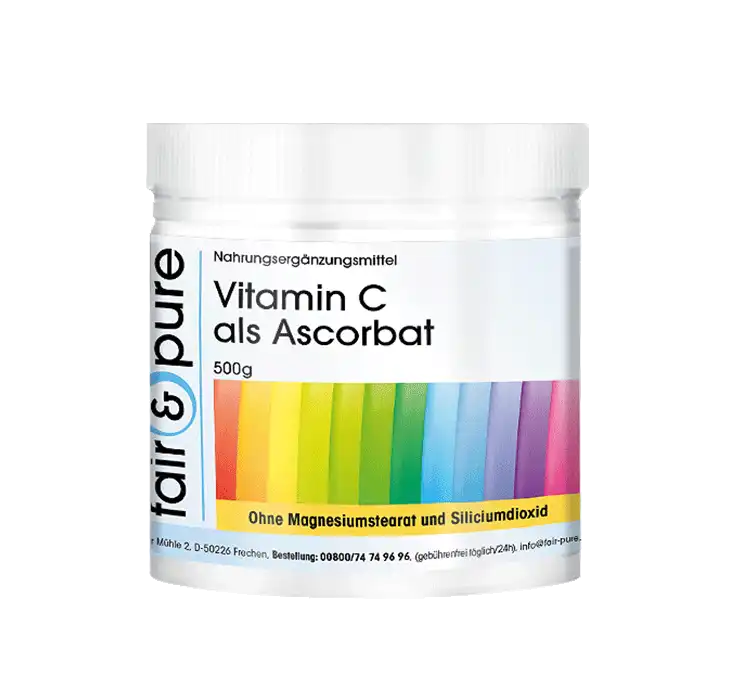 €18.95*
Content:
0.005 kg
(€3,790.00* / 1 kg)
Product information "Vitamin C als Ascorbat - 500g Pulver"
While almost all animals can synthesize Vitamin C on their own, humans rely on the intake of this water-soluble vitamin from external sources.
Vitamin C contributes to:
Normal function of the immune system during and after intense physical activity
Normal collagen formation for the proper function of blood vessels, bones, cartilage, and skin
Normal energy metabolism
Normal function of the nervous system
Normal psychological function
Normal function of the immune system
As a classic antioxidant, it can also protect cells from oxidative stress.
The Vitamin C in this dietary supplement from Fair & Pure is in the form of Calcium Ascorbate in nearly pH-neutral form, as it is bound to calcium. It is therefore stomach-friendly and is also called buffered Vitamin C.
The Calcium Ascorbate powder from Fair & Pure is an easily dosable Vitamin C supplement. The included measuring spoon makes this particularly easy. The powder is neutral, without any additives or flavors. It is flexible in consumption and easily mixable.
The recommended dosage of 1156 milligrams of Vitamin C per day can be easily adjusted as needed due to its powder form.
High Quality: Vitamin C Powder without Additives
The Vitamin C Powder from Fair & Pure consists of 100% pure Calcium L-Ascorbate. It contains 82.6% Vitamin C. We have willingly avoided any additives or auxiliary substances.
Classic antioxidant
Generous 500g jar with approximately 350 servings
Inclusive measuring spoon
Highly dosed with 1156mg Vitamin C according to the recommended intake
High-quality dietary supplements - guaranteed without magnesium stearate
100% vegan
Produced according to quality and hygiene standards HACCP
Note: As a manufacturer of dietary supplements, we are not allowed to provide information on the effects of vital nutrients due to legal requirements. Please consult specialized websites on the internet or scientific literature before ordering our products online.
Alphabetical search:

V

Dosage form:

Powder

Fields of application:

Immune system

, Skin + cellules + tissues

Food Supplements:

Vitamins
---
---